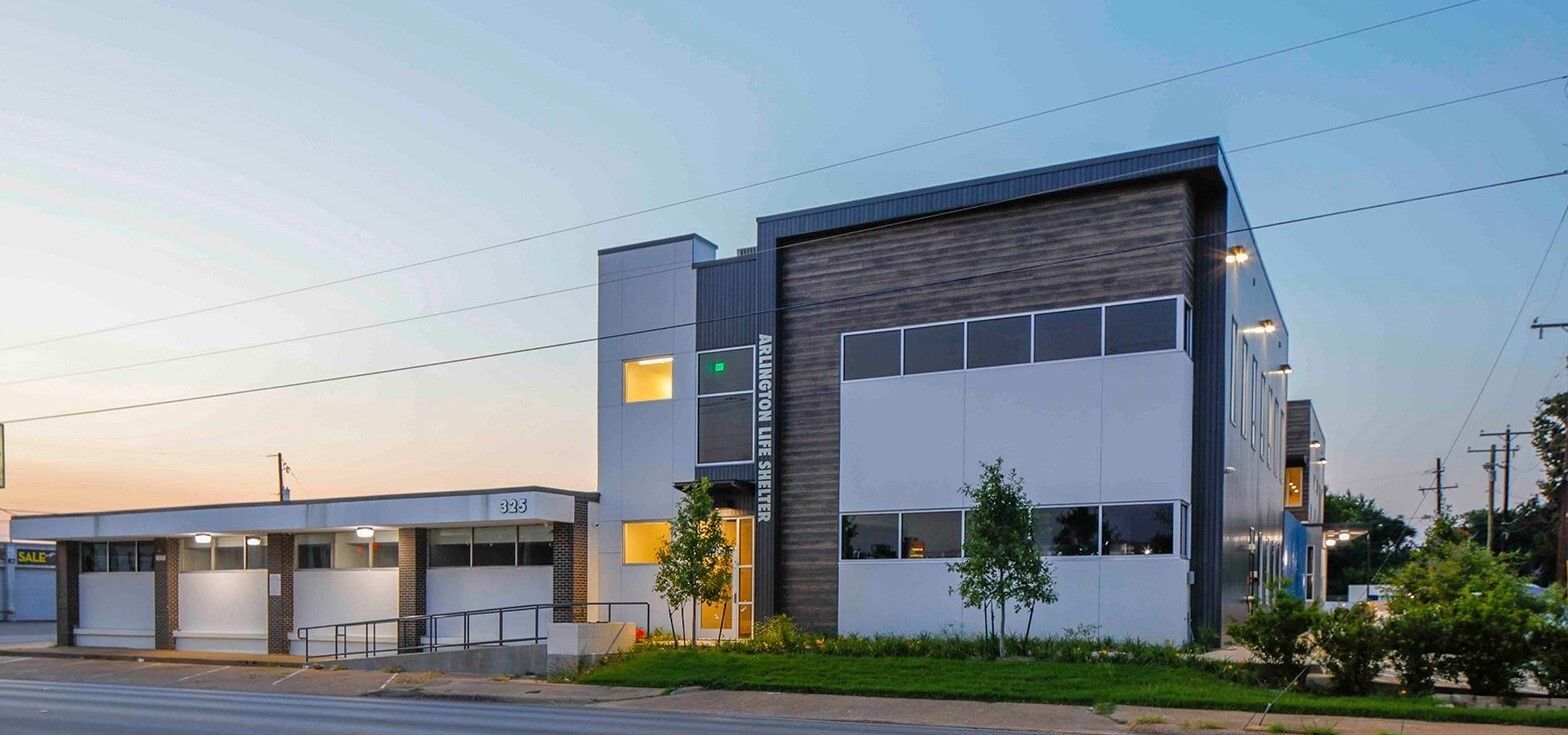 Mission:
The mission of Arlington Life Shelter is to promote self-sufficiency by providing shelter, employment programs and transitional services for North Texans impacted by homelessness.
Vision:
Arlington Life Shelter envisions a community where all individuals, families, and children affected by homelessness have access to the services and support necessary to restore ability and achieve personalized success.
Agency Overview- A New Day. A New Home. A New Life.
     Over 25,000 homeless men, women and children have sought refuge at the Arlington Life Shelter over the past 35 years.  On a very cold night in 1987, volunteers opened the doors of First Presbyterian Church of Arlington, welcoming those with no place to call home.  During the first three years, the Shelter was operated entirely by volunteers.  It moved to its current location in 1988 and was renovated in 1993, increasing the capacity for clients from 43 to 87. In summer 2019, construction began on the shelter expansion temporarily reducing the number of beds to 45. The facility became operational on June 4, 2020 .Upon the new facility opening, bed capacity increased to 120; an additional 20 guests can be housed during inclement weather nights.
     The new facility includes seven family bedrooms, expanded children's programming space, and expanded classroom/ day use space for guests.  In the beginning, most guests were unemployed men, often challenged by alcohol or mental illness. Today, women and children make up nearly half the shelter population.  Changing demographics have seen the shelter expand from providing cold weather shelter to the comprehensive rehabilitative services offered today.
---
Our Residents
     Homeless individuals and families arrive from throughout the Metroplex for a number of reasons. The lack of affordable housing, job loss, eviction and domestic violence are most often identified as the catalyst(s) for homelessness. Over half of the parents entering the facility are employed, but not earning enough to pay for housing and family necessities.
     The Arlington Life Shelter provided shelter and rehabilitative services for 805 homeless men, women and children in 2021. A reduction from previous years due to the pandemic. The ethnicity of clients was 52% African American, 34% White, 2% Native American/Alaska Native, 4% Asian, and 2% Multi Racial. Twelve percent (12%) of clients identified as Latino/Hispanic.  Gender was represented at 45% Male, 45% Female and 10% unknown.  There were 57 veterans who were served.  All guests lived below the poverty line.